It's a 10 - Products
Visit It's a 10 website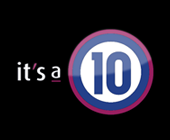 It's a 10
Inspired by years of first-hand salon experience, each and every It's a 10 product is formulated to deliver a combination of 10 benefits that used to take numerous products to achieve. Now, through our exclusive professional salon formulations, you can enjoy shine, moisture balance, and healthy movement with just one product. We call it the strength in simplicity and it will undoubtedly change the way you think about hair care.
Sinclair Hair at Sola Studios is proud to offer It's a 10 to our clients. As expert It's a 10 specialists, we strive to deliver the best products and services in the Overland Park, KS area. Our decision to offer It's a 10 to our valued customers is part of this commitment.
Miracle Leave-In
It's a 10 Miracle Leave-In is an ideal solution for smoothing hair, eliminating frizz, restoring shine, and enhancing natural body. As well, it is an excellent nourishing treatment that can be used alone and/or as a restorative styling product that leaves hair soft and bouncy. Made with numerous natural ingredients our Miracle Leave-In Product works with all hair types to bring out natural luster and manageability while also making hair stronger and healthier with every use.
Miracle Texture Fiber
Piecey… Defined… Sectioned… Individual Layers… Toussled… whatever you want to call it, some styles simply call for a little extra texture. Ideal for men's styling and equally perfect for pixie-short ladies' styles, bobs, and layers, It's a 10 Miracle Texture Fiber is a lightweight invisible paste that smoothes and separates hair into just the right spot. At the same time, it helps guard against frizz, flyaways and humidity with touchable ease.
Shine Spray

Adding the finishing touch to any type of hair, the It's a 10 Miracle Shine Spray is the simple and effective way to impart lustrous, healthy shine. Designed to be equally effective on wet or dry hair, our Miracle Shine Spray uses powerful natural ingredients to help smooth curly and straight styles while also healing the hair shaft to bring out hair's own healthy shine. Use as an after-styling finishing spray on dry hair or as a protectant against heat styling on wet hair.