Keratin Complex - Products
Visit Keratin Complex website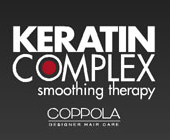 Keratin Complex
Since our launch in 2007, Keratin Complex has led the way with innovative technology and amazing results. It is no wonder Keratin Complex is now the leading smoothing system in the World! All Keratin Complex treatments and styling products are specially formulated to contain natural keratin protein, which rebuilds, restores and rejuvenates all types of hair. No more bad hair days with Keratin Complex!
Sinclair Hair at Sola Studios is proud to offer Keratin Complex to our clients. As expert Keratin Complex specialists, we strive to deliver the best products and services in the Overland Park, KS area. Our decision to offer Keratin Complex to our valued customers is part of this commitment.
Shampoos & Conditioners
Keratin Complex offers a complete, well-balanced range of shampoos and conditioners to keep you hair looking and feeling great day after day – all with natural keratin. These shampoos and conditioners are designed and formulated to complement every hair type and specific need – from maintaining your therapy treatment and hair color, to clarifying and re-balancing, to gentle daily use. Available in two sizes. Find the ones that are right for you…
Blondeshell
Perfect for all blonde and gray shades, from natural to highlighted, the Keratin Complex Blondeshell collection debrasses and brightens all hair types. Blonde, gray and silver tones stay bright and radiant, thanks to a fade-fighting chamomile complex and strengthening blend of keratin, vitamins and botanical oils. The entire Blondeshell collection is formulated without parabens, sulfates or sodium chloride for healthier hair and bold, true color.
Infusion / Repair Therapy Collection
Keratin Complex Infusion Therapy Collection encompasses several unique, cutting-edge hair smoothing, styling and finishing products all containing our advanced keratin-based infusion technology. This range is a perfect complement to our Keratin Complex Smoothing Therapy clients or anyone wanting extra smooth, shiny, beautifully conditioned hair! Once you have tried the Keratin Complex Infusion Therapy Collection, you will be hooked – there is nothing that compares.