Mizani - Products
Visit Mizani website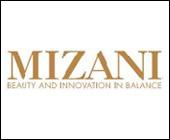 Mizani
Originally developed by Soft Sheen and Redken, MIZANI is a collection of holistic premium salon-exclusive hair care and treatment products targeted to the African American salon/stylist and their clientele. MIZANI is a complete line of professional treatments, relaxers, shampoos, conditioners, hair color, and styling products designed to meet the expanding needs of today's global beauty.
Sinclair Hair at Sola Studios is proud to offer Mizani to our clients. As expert Mizani specialists, we strive to deliver the best products and services in the Overland Park, KS area. Our decision to offer Mizani to our valued customers is part of this commitment.
Thermasmooth
ThermaSmooth is Mizani's salon-exclusive, synergistic thermal smoothing system designed to repair, protect and smooth the hair from the very first step. With Mizani's exclusive C3 Smoothing Complex of Coconut Oil, Ceramides and Cationic Polymers, Thermasmooth provides weightless protection for long-lasting, frizz-free, smooth style - ideal for use on natural, excessively curly hair to hair that is relaxed and or color treated.